sea monster shows
Friday, August 22

Yankee Peddler Reunion

Wounderous Stories
Sea Monster

KJ Farrell's
242 Pettit Ave.
Bellmore, NY 11710
www.kjfarrells.com
516.804.9925
7:30 pm

This will be amazing! All are invited but there will be a heavy amount of the old Peddler crowd! Sea Monster goes on at 8pm, Wondrous Stories goes on at 10pm.
Thursday, August 28

M&D Performance Presents...

Thursday Night
Bike Nights

featuring the primal sounds of...

Sea Monster

Point Break Sports Bar
445 Hempstead Tpke.
West Hempstead, NY 11552
516.489.0769
7pm

Woohoo! BIKE NIGHT IS BACK! The fourth Thursday of the month, join Sea Monster at the Point Break Sports Bar for a party that includes complimentary BBQ, $2 shots, contests, raffles and more -- it's gonna be a helluva Summer!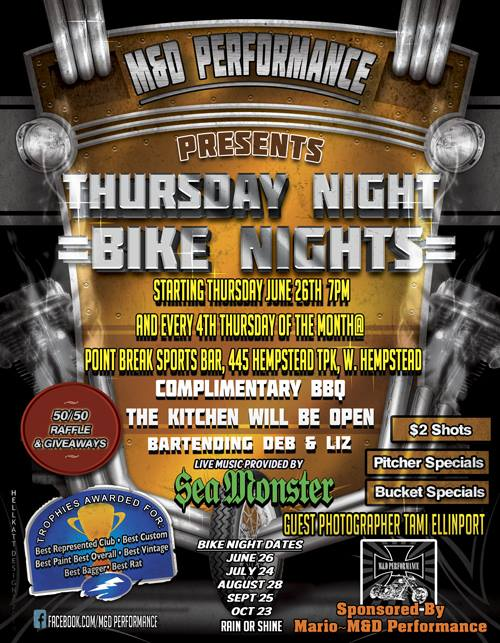 Saturday, August 30

Twangstock

featuring the primal sounds of...

Sea Monster

Rancho De Angelo
11 Grange Lane
Levittown, New York 11756
1pm

Party on Saturday starts at 1pm, Scoot on Sunday! TWANGSTOCK, aka SCOOTSTOCK - The East Coast Rock n' Roll, Surf Music Festival and Scooter Rally is on for its FINAL APPEARANCE at Rancho De Angelo. That's right -- this will be the LAST TWANGSTOCK! The prodigal Son of The White Trash BBQ is getting kicked out! Come experience this unique party for the last time. Stay tuned for band line ups and more information. AKA: Scootstock, The Long Island Scooter Rally! Bands and party on Saturday with the final SCOOTSTOCK ride on Sunday!