sea monster shows
Sunday, May 17

Pig Roast

with...

Sea Monster

Point Break Sports Bar and Grill
445 Hempstead Turnpike
West Hempstead, NY 11552
(516) 489-0769
12pm
Sea Monster will be providing a rock n' roll soundtrack for this annual pig roast! It'll be a blast!
Friday, June 5

M&D Performance Presents...

Bike Night

featuring the chilling sounds of...

Sea Monster

The Quarter Mile Sports Cafe
1049 Hempstead Turnpike
Franklin Square, NY 11010
(Next to OTB)
(516) 354-9687
8pm
The first Friday of the month is Bike Night at the Quarter Mile Sports Cafe! C'mon down for drink specials, raffles and the thrilling sounds of Sea Monster! See you there!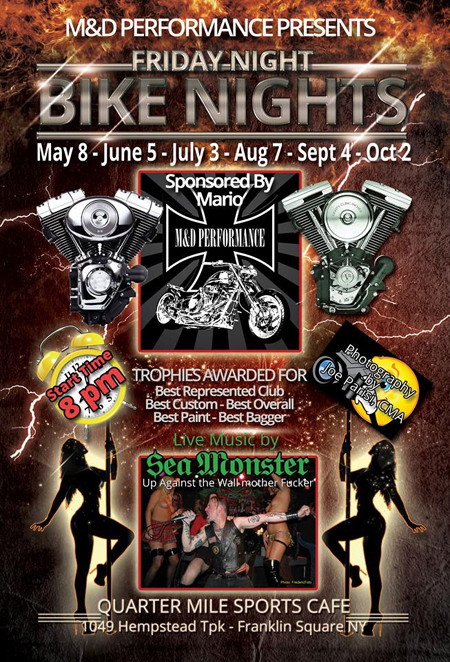 Thursday - Sunday

June 4-5-6-7

Sea Monster

Many More Bands TBA

The Bowery Electric
327 Bowery
New York, NY 10003
www.theboweryelectric.com
(212) 228-0228
21 and Over.
6pm


Max's Kansas City was a New York City restaurant / club that famously became a home base for cultural provocatuers like artist Andy Warhol, glam rockers like Bowie and punk bands like the Ramones. This four day festival will celebrate this historic venue's 50th Anniversary with a star-studded cast of musicians (TBA), artists and celebrities! Sea Monster goes on Saturday, June 6 at 8:45pm Get tickets on www.ticketweb.com.